---
Archive
PROJECTS // 2010-2020/
Site-specific installations
Colaborations
unique pieces
---
---


2021 / EXPERIMENTS IN CONCRETE /


The project is about experiments in concrete in scalable objects- COLOUR / SHAPE

- a new collaboration with Birgitte Due Madsen made at Danish Art Workshop

- with help from Danish Art Fondation / National Bankens Jubelæumsfond / Ålborg portland /Dansand
---



2021/ ROSET /

Simple and classic - but not... - ROSET for a private client.



PHOTO: Lise Kassow
---




2020 / SCULPTURES / GYPSUM / RHUBARB STUDIO / CARL HANSEN & SON / 3 Days of Design CPH /

"EXTENDED DUALISM" by Linda Weimann
A series of sculptures.

The series consists of a number of works in plaster based on the dualities of profile and curves, hard and porous material, sharp edges and soft shapes.
An algorithmic dualism develops at the interspersion between profile and the form that is created by the system of the ornament. In this way, a further processing of stucco in its expression and methods is created; expansions and variations of the same shape within new scales and spatiality. The material (gypsum) is not only a material, but the definition of the work itself – by drawing profiles through spatiality.
Transitions between the rounded and the angular, between pedestal, podium or half pillar define the character of the project/series.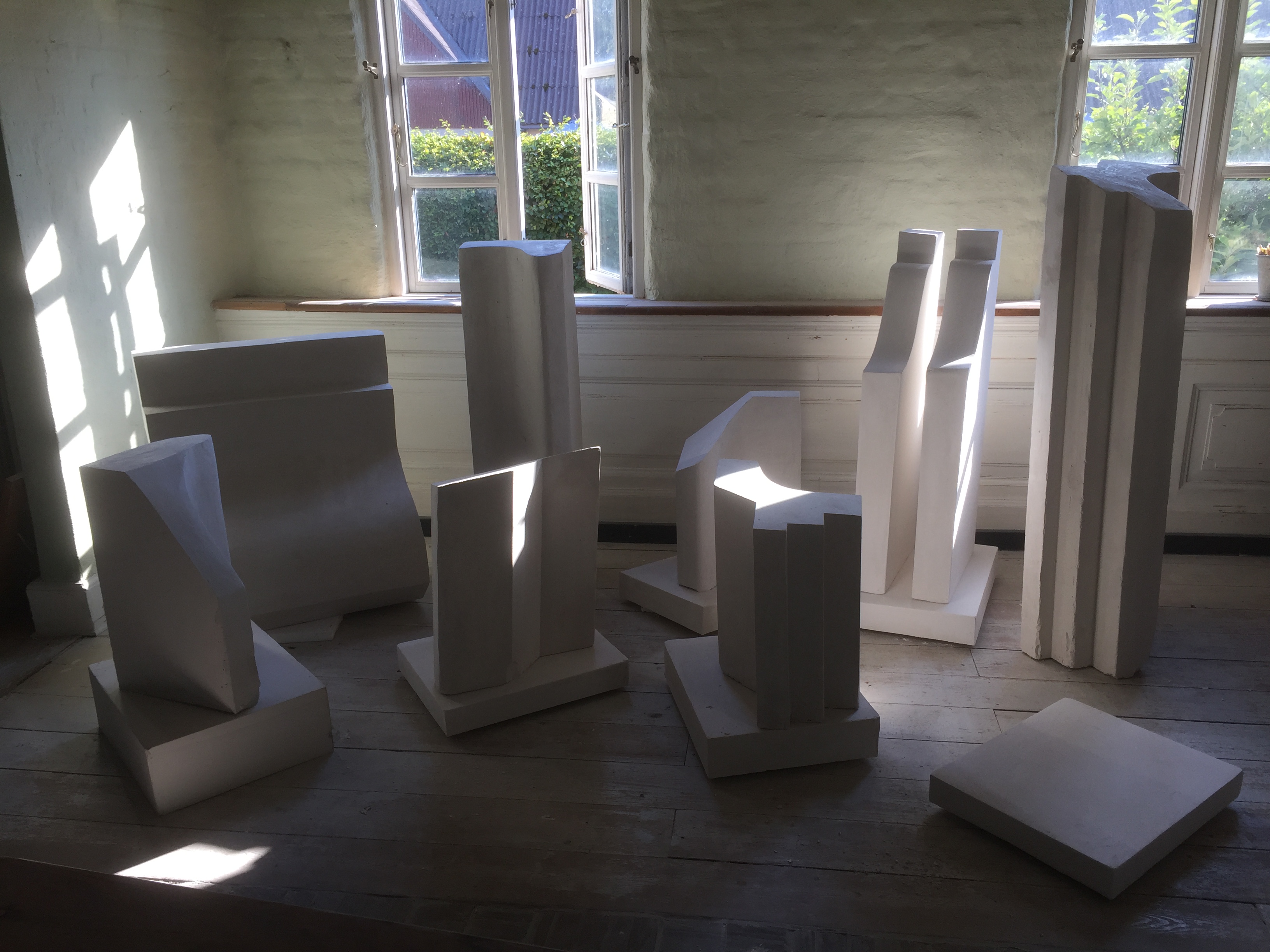 ---
2019 / CONCRETE RELIEF / WATERMIRROW

Private house
A dynamic compose in a site-specific relation between arch
itecture, exterior and private space.

With water as a component the relief connect the inside with the outside.


71 concrete elements , 3 sizes, 49 cuts in horisontal variation.
Blue in-colored with 3 tones, and rounded corners elements.
Thank you too the architect of the house by:

Lise Kassow


















---


2018 / EXHIBITION INSTALLATION

Site-specific installation in gypsum, proces from hand
moulded sculpture to spacial flow and context.


Read more about the project here







---

2017 / CORNICE - FRAME FOR WALLPAPER

Design , product development and production for File Under Pop

A jesmonite frame to hold handpainted wallpapers.
Photos by : Ditte Isager


---
2018/ EXHIBITION ELEMENT

Colaboration with Dark Matters , client : Borgcenteret

Concrete relief with CNC generated shapes , 3 types, with 3D Mapping ,
- a story about kings and power.


Play : https://vimeo.com/92538638



---
2017 / SHOWPIECES / DAWN / 3 days of Design

5 Piedestal Elements in gypsum and resin.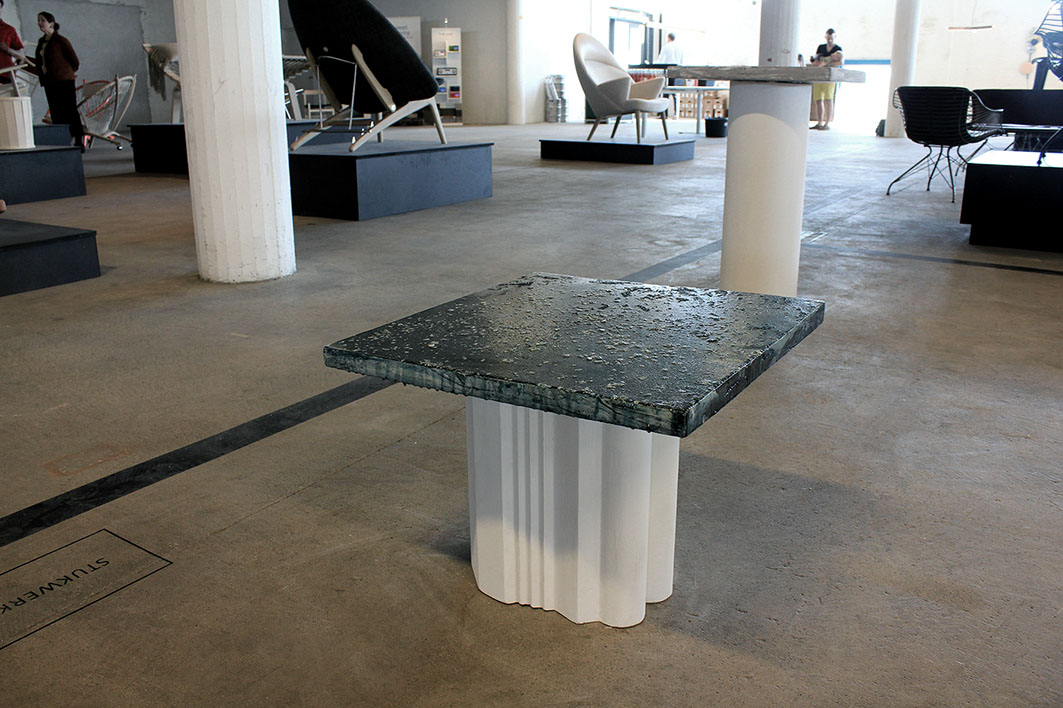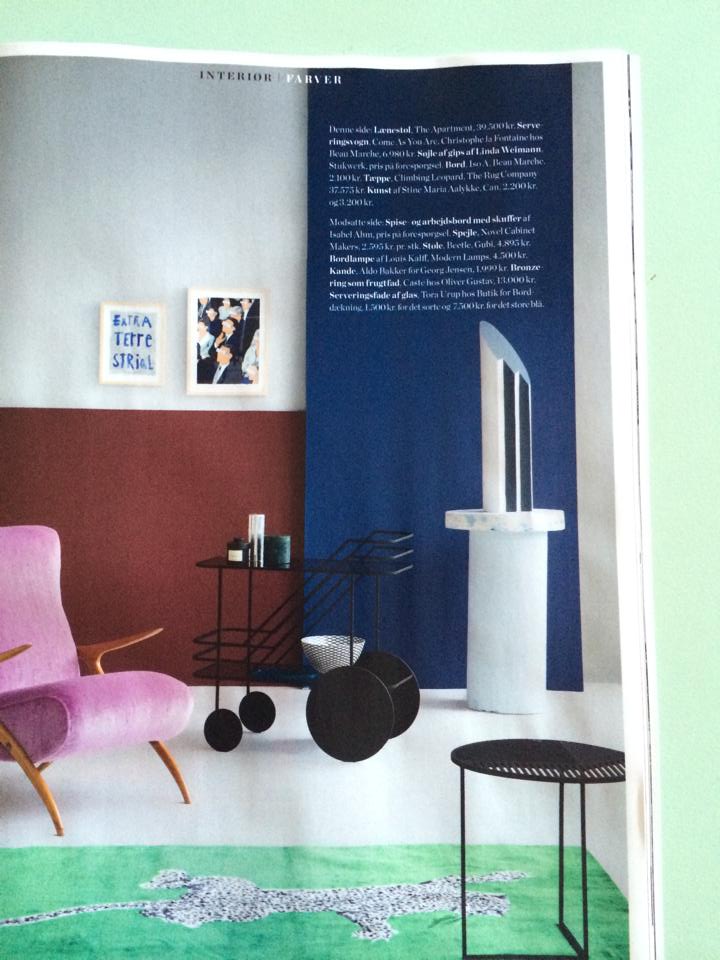 RUM MAGAZINE





---
2010-13 / PROCES _ WORK
During master at DKDS, development at SVK /
with support from Danmarks Nationalbanks Jubilæumsfond.

Prototypes, experiments and investigation af the ornamentel langues, in different scales .
Booth with the level og blending crafts and new techniches and light integration.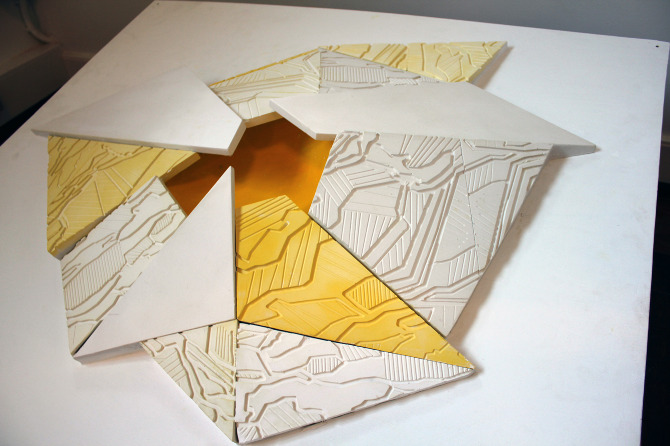 ---
2010-13 / PROCES _ WORK



SUCAR TOPS Is a MODUEL thats investigating 2D patterns into 3D form, booth at seeling and wall.

SUCAR TOPS takes the principle of forms coming in and out of space, as a OUTWARD / INDSIDEperspective. The polygon patterns are VARIATIONS, and tests the way of one form going into the next as a never ending cross section.



---
2010-13 / PROCES _ WORK


COLOR & FABELS is a contrast between geometric shapes and figur as a classic element in the ornament,
" THE HIDDEN ORNAMENT" as a ornament tearm, working with the space in space use the corners as an extra space.


---
2010-13 / PROCES _ WORK


EDGE BY EDGE is experimenting with the integration of light, and works with shadow and form as a backdrop. The light is a subtile and underplayed element, and the classic edge shape is investegating the meeting between wall and ceiling. Framing a LAYER ON LAYER idea, and working with detalis in contrast with clean big organic shapes, the profile surrounding the roset is a 3D experiment in how to generate profiles from 3D into physical form, with are a metods that traditionel crafts can not do.









---
2016 / EXHIBITION DISPLAY // COLLUMS
Production and design for : Studio Atlant / The Museum for Contemporary Art

Display design, unque marble effect. 3 variations for shop and wayfinding program.
---
2014 / SHOWPIECES FOR EVENT

---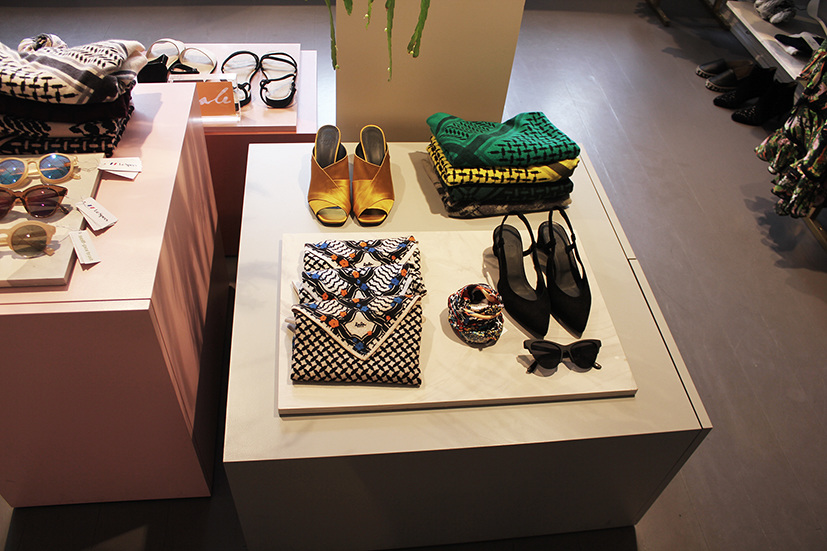 ---
2013 / INTERIOR ELEMENT

Roset obejct made for Bjerg Architects / Restaurant GEKKO